2021 – 20 years in Rail for NRL
As the year reaches a close, colleagues across NRL's Rail business are reflecting on 20 years delivering their services to the industry, following the formation of the business in 2001.
Over these two decades, NRL's Rail business has expanded to offer more contracting services out on the tracks, as well as establishing training options to help operators get to grips with equipment and key safety measures.
We review the first 20 years in business.
Establishing the business
Rail Business Director Jim Taylor first joined the NRL Group in the Falkirk branch of the Recruitment business, spending several years focusing on the petrochemical, oil, gas and marine sectors. After building up knowledge of the Rail industry however, in 2001 he identified an opportunity to supply Ultrasonic Operators to a project – creating the idea to set-up a new Contracting business to diversify into Rail maintenance. Something which the Group was keen to support.
Developing training services
Early services provided included Ultrasonic, Grinding and S&C work to support signalling improvement programmes.
By 2009, the team had identified an opportunity to provide training services to clients, including hands-on courses covering a wide range of maintenance disciplines.
In 2016, the team ambitiously opened a new state-of-the-art indoor training track in their new Barnsley office, designed to provide a trainer assessed environment to safely learn techniques off the tracks.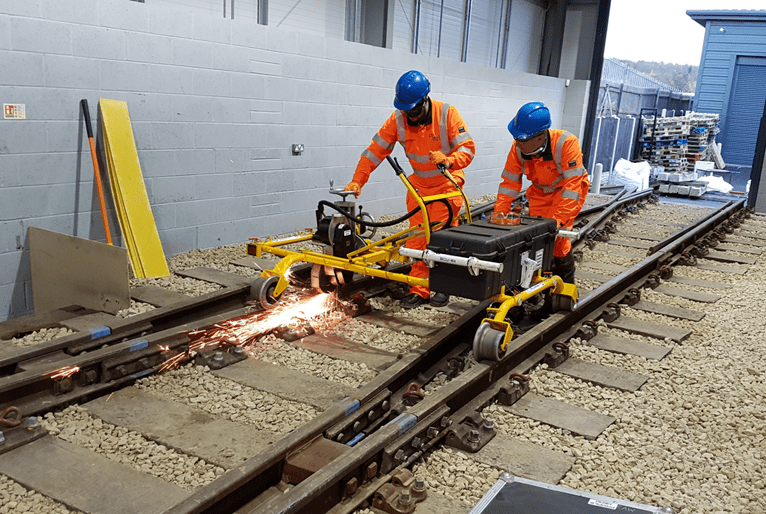 Playing our part to ensure safety on the tracks
Safety is the number one priority for the team, whether that's when they're out on the tracks at work or putting plans in place to deliver a maintenance programme.
That's why they were proud to sign up to the CIRAS (Confidential Incident Reporting & Analysis System) initiative in 2015. Something they have continued to engage with to ensure full transparency and a day-to-day focus on safely.
In the same year NRL's safety approach to rail maintenance was also formalised by securing the RISQS accreditation, which has been successful renewed for each year that followed – as our management systems meet the requirements to safely operate across the rail infrastructure network.
Becoming an IOSH approved training provider
As the focus turned to how NRL could continue to support clients with their staff training requirements, the team secured approved training provider status in 2018 to deliver IOSH courses.
Offering the Managing Safely and Working Safely courses, these can be developed from an NRL location or at client offices – with training available nationwide.
Welcoming Apprentices to the business
Keen to ensure we can work with our clients to encourage new people into the industry, the team were delighted to welcome their first Rail Apprentice into the business in 2019. Passionate about sharing their knowledge and getting young people interested in working on the tracks, several more apprentice opportunities were identified over the next few years, and the team were delighted to see their first Apprentice Eliot complete his qualification in late 2020.
Looking to the future
The team have big plans to continue to evolve their services and delivery capability, with no signs of slowing down as they pass the 20-year marker.
With new UK-wide projects currently under development such as HS2 and electrification works, it's also clear the rail industry has bold plans over the coming decades too, and the team at NRL are prepared and ready to support.
Find out more
To learn more about NRL Rail and our history, click on the link below.