Our team have the technical knowledge and project management expertise to support major infrastructure works – within agreed project timescales, and to the highest safety standards.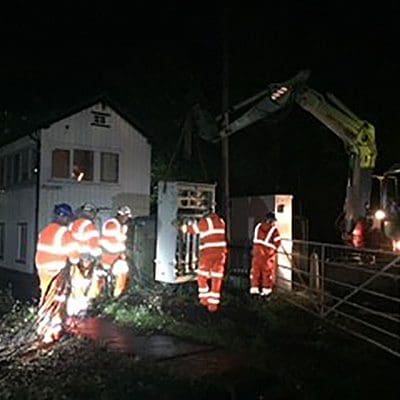 Project
Spotlight

:
Aberdeen to Inverness, Highland Main Line Enhancement Project – Phase 2 Aviemore
Project Timescale: 19 weeks
Project Team: 6
Key deliverables:
Lift and shift mechanical operated points equipment at Aviemore
Lift and shift signalling location and mechanical signal wire and associated signalling cables at Pitlochry
Project Review:
The Aviemore programme was completed on time and against schedule – to accommodate the track work renewal stages of the project. Associated works at Pitlochry facilitated all ground work to accommodate a platform extension. The proven signalling maintenance testing methodology undertaken by the NRL team, ensured no new testing specifications needed to be developed – delivering a financial saving to the project.
Please pass on my thanks to the team working on this project. Despite a few concerns my end before commencing the project, there was no need to be worried – the team have done a sterling job, including the set-up prior to undertaking the work.

Client feedback
Project
Spotlight

:
Millston Burn Bridge Renewal, Greenhill to Dundee Line, Scotland
Project Timescale: 1 year
Project Team: 7
Key Deliverables:
Survey Report
Cable slew S&T disconnections and reconnection
SMTH Testing
Project Review:
A comprehensive programme was delivered to carefully manage the disconnection and reconnection on two lines, controlled by the local signal box at Greenloaning. Cable routes were in both cesses across the bridge, with a combination of buried cables, cables on hangers and cable contained trough route. In addition, mechanical signalling wire, stay wires, mechanical pulley wheels, signal post telephone, track circuit and TPWS needed to be carefully managed.
To ensure safety, disconnections and cable protection was put in place – which included temporary cable support for the calculated cable weight, for the length of the track removal and excavation. All signal wires and TC cables required labelling before disconnection, before being reconnected by SMTH qualified staff.
Other projects we've
supported

:
S&C North Alliance, Region wide – A Project Engineer and Signalling Technician team delivered a switch and crossing renewal programme for the Alliance.
SMTH Cable Renewals, Nationwide – Team of three specialist personnel carried out signalling maintenance testing to infrastructure works.
G110 Design Signalling, Nationwide – Working with the project team to provide specialist signalling non-conceptual design.
Signalling survey and CRE, Nationwide – Supporting infrastructure works by providing a signalling survey technician for bridge works.